Photo Credit: Jeff Stead/PrepsKC
Even as Gabe Shanklin crossed the goal line, he could hardly believe what was happening.
The Raymore-Peculiar senior looked around in disbelief after he scored the game-winning touchdown with 18 seconds left during the Panthers' 27-21 victory against Liberty North on Friday in the Class 6 District 4 championship.
Shanklin's touchdown allowed Ray-Pec clinch to its first district championship since 2009, and it also marked the first district championship at the Class 6 level.
"It was very emotional because I know how far we've come," Shanklin said. "Especially this game from being down 14-0, us not panicking and us winning the game."
Indeed, the Eagles soared to a two-touchdown lead in the first quarter behind its senior playmakers.
Receiver Warren Bennett III took a punt return on one hop and reeled off a dazzling, tackle-breaking run that went for 90 yards and a touchdown to put Liberty North on the board. After the Eagles defense forced a quick stop, running back Keshawn Turner then found the edge to make it 14-0.
Even then, Raymore-Peculiar never lost its focus or composure.
On the ensuing drive, the Panthers executed a fake field goal to perfect, as Luke Grimm took the direct snap and bowled into the end zone. One Ray-Pec next drive, Hudson Bailey hauled in a perfect strike from Conrad Hawley from 31 yards away, ultimately taking the lead when Grimm passed for the two-point conversion. Just like that, the Panthers led 15-14.
"One this this team does not do is panic," Shanklin said. "We've never panicked in a game. I feel like this is the best example, down 14-0."
Liberty North rediscovered its groove and retook the lead, 21-18, on Luke Mathews' touchdown grab from Jake Van Dyne, though Gabe Sappington leveled the score at 21-21 in the final seconds of the first half.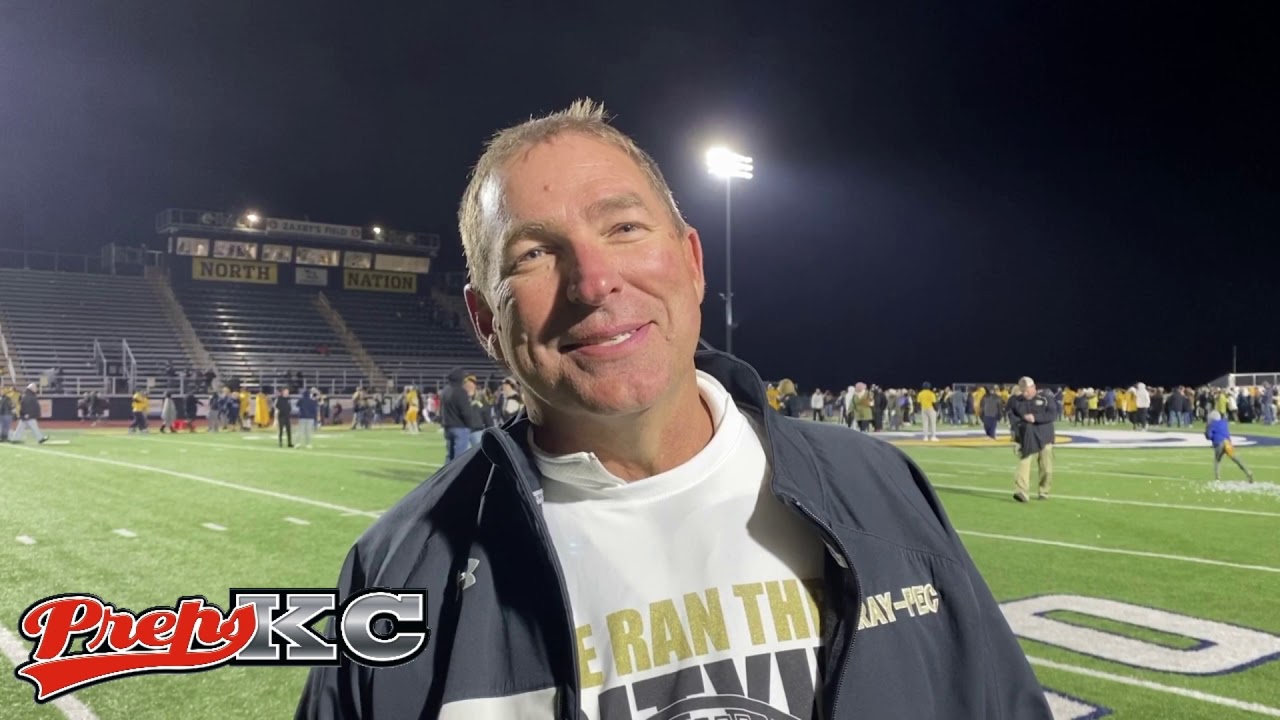 After such a thrilling first half, defense ruled the rest of the way. Both teams traded punts in a field position battle that lasted until the final minutes.
The Eagles had two possessions during the fourth quarter and looked primed to seize the momentum. But each drive stalled, and Liberty North had to punt it back to the Panthers midway through the quarter.
"The biggest thing that killed us is we were backed against the goal line," Liberty North coach Greg Jones said. "They did a great job playing the battle of field position.
"And then we were our own worst enemy. We kept stopping ourselves."
That's when Ray-Pec resorted to the ground-and-pound style that's served them so well all season.
On their final drive, the Panthers marched 66 yards thanks to 11 runs and just two passing plays. Shanklin and Phillip Fager combined for every carry on the drive, converting one first down after another.
"That to me, really set the tone for us when we got those three first downs in a row running the football, when everybody in the stadium knew we were going to do it, too," Ray-Pec coach Tom Kruse said. "So I give a lot of credit to our offensive line."
With just 18 seconds left, Shanklin burst through a hole in the line and scored from 8 yards out to put his team in front for good, clinching the district championship.
Shanklin led the way with 80 rushing yards, while quarterback Conrad Hawley made a handful of clutch plays in the passing game to account for 74 passing yards.
Ray-Pec will host No. 1-ranked DeSmet next week, and Kruse said winning the district title is a testament to the players and coaches for having belief in themselves.
"I wouldn't put anything past us," Kruse said. "I thought we'd be a tough out because of the way we've battled all year, and the senior leadership's been fantastic.
"And here we are. It's been exciting for us."
Despite a valiant performance, the Eagles suffered their first loss of the season. Jake Van Dyne threw for 129 yards and a score, while Liberty North's ground game was largely held in check by a touch Ray-Pec defense.
After lining up against Kruse for the first time their career, Greg Jones said he was proud of how the team battled throughout the game and would look back fondly on a history season at Liberty North.
"It's going to sting, but here in a couple weeks, we'll look back at what we accomplished and what we did," Jones said. "I think our goals were set where we wanted to go and what we wanted to do, and it hurts that we didn't get there."