In a game with multiple personal fouls, and plenty of penalties, Bishop Miege went on the road and crushed Tonganoxie 54-10.
Tonganoxie went into the game with a record of 10-0, but they could not stop the aerial attack of junior quarterback Timothy Dorsey. Dorsey threw six touchdown passes, as the Stags advanced to the semifinal round of the Kansas playoffs.
Tonganoxie head coach Al Troyer said before the game, "They are a great offense and they can score quick, we want to try and slow them down the best we can."
The Stags did score quickly, on their second play from scrimmage Dorsey found Phillippe Wesley for a 58-yard score.
Tonganoxie tied the game when running back Cooper Cunningham found the corner of the end zone on a 9-yard run, with at 3:51 mark of the first quarter.
in the second quarter the Stags started to take over the game. Dorsey hit tight end Mack Moeller with a pair of touchdown passes the first went for 39 yards, and the second was from 33 yards. In between the two touchdown passes, Wesley returned a punt 34 yards for a score.
As dominate as the Stags offense was, the defense was constantly putting pressure on Tonganoxie's quarterback Blake Poje. Even if they did not sack Poje the pressure, caused by the Stags led to multiple holding calls. This in turn led to the Stags starting on their opponent's side of the field in all five of their first half possessions.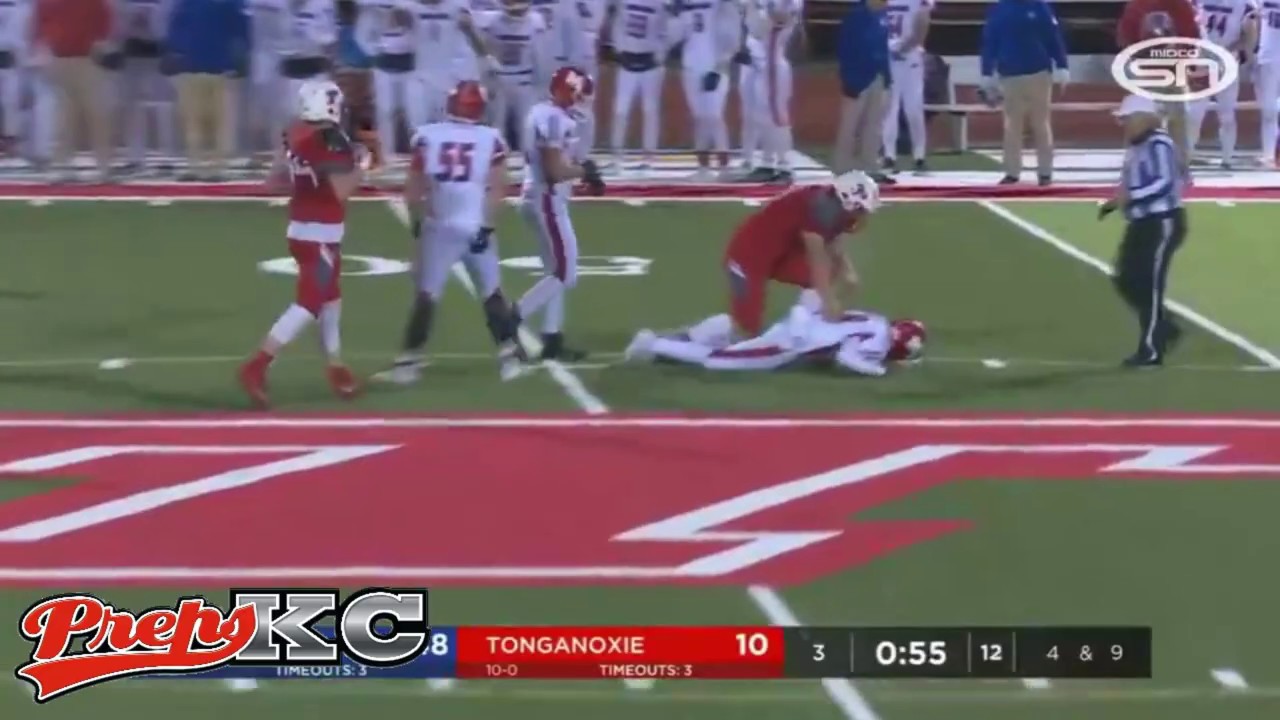 Late in the first half, Tonganoxie had the ball first and goal inside the Stags 5 yard and had to settle for a field goal. Stags head coach John Holmes, talked about that defensive stand, "Holding them to field goal, that was big. We held them to 28-10 and got some stops in the second half."
The third quarter was all Stags, Dorsey had two more touchdown passes, to senior wide out Daniel Jackson, of 42, and 15 yards. In between those scoring plays, Ty'Quez Agnew-Witten scored on a 2-yard run.
The final score in the game was in the final quarter, when Dorsey and Moeller connected for the third time, from 16 yards out.
Dorsey described two of his touchdowns against the Tonganoxie zone, "The corners, would sit on the flats, the linebacker tried to funnel everything towards the middle, and the safeties would read that and we were able to hit them over the top."
The win means the Stags improve to 9-2, and they will play the 11-0 Paola Panthers, where the winner will play for the State Championship.