With an opportunity to tie the game after clawing its way back from being down 21, Blue Valley North had an opportunity to send the game into overtime until Blue Valley called a timeout before the point after attempt.
Henry Martin threw his third touchdown of the game to Theo Grabill – a 5-yard pass – with 46 seconds left to pull the Mustangs to within 21-20. Coach Andy Sims trotted his offense out for what appeared to be the game-winning two-point conversion before calling a timeout.
"We were wanting to see if we had a look there," Sims said. "It was never a go-for-it or not-go-for-it deal; we wanted to see if we had a look there – 46 seconds left; you have timeouts to burn. We wanted to make sure we had the best play set up and we didn't feel that way. We wanted to put our kids in the best situation. Unfortunately, I don't think anybody saw a blocked PAT coming."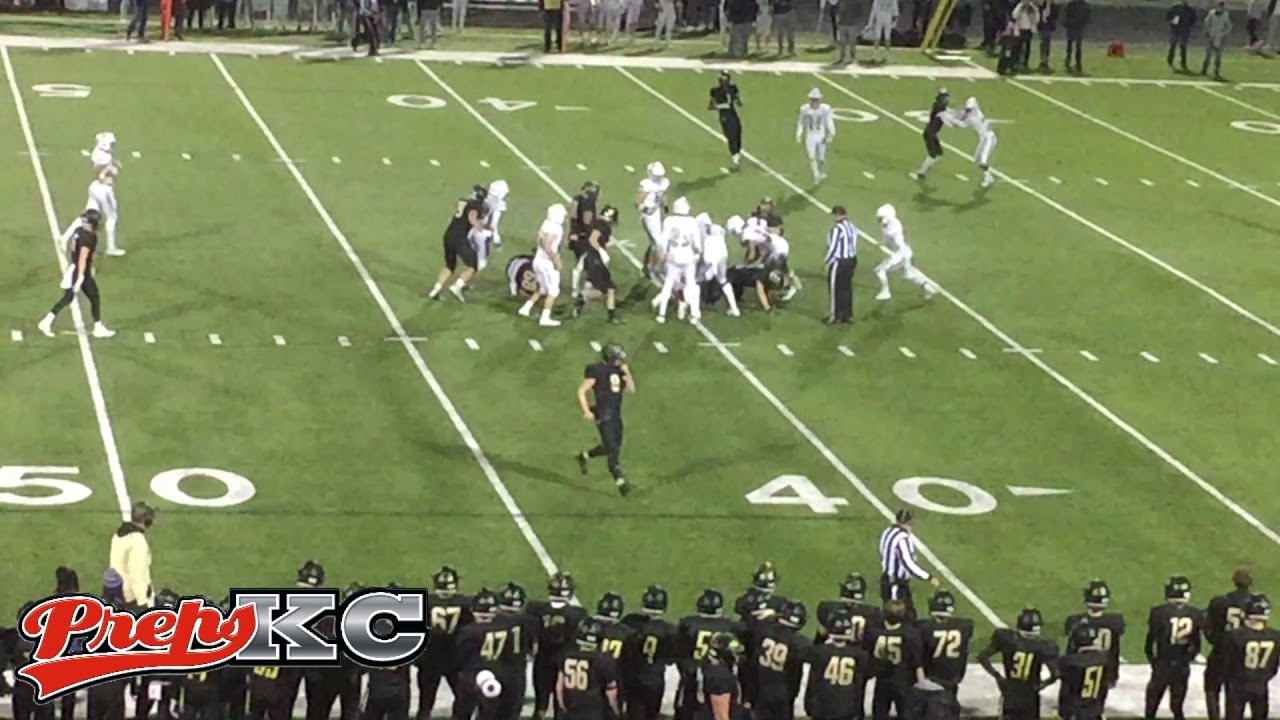 Blue Valley's Michael Allen found a gap in the block and shot through allowing himself an opportunity to make a play on the ball. He timed his dive perfectly and thwarted the point after attempt to seal the Tigers' place in the semifinals against Olathe North.
The ball just seems to find Allen. In Week 8, he came up with an interception at the end of the game against Blue Valley West to give the Tigers a 10-7 win.
"The coaches put us in great situations," Allen said. "Coach (Demetrius) Bernard saw a weakness in their defense and it worked perfectly. Our coaches are putting us in these situations – I'm just a chess piece and they're placing me where I need to be."
Before the PAT attempt, Blue Valley called a timeout to set up how the line would be positioned. Two down linemen lined up on either side of the long snapper and their job was to create a lane by turning the North guards out, which allowed Allen and the other safety to spill under.
"Luckily for me, being 5-foot-6, 150 (pounds), I was skinny enough to get through there and it came right to my hands," Allen said.
After two stalled out drives to begin the game, Blue Valley scored on three straight drives – a 53-yard catch and run by Dorian Stephens from Jake Wolff for 53 yards, a 65-yard pass from Wolff to Tate Gillen and a 40-yard run by Chase Jans – to take a 21-0 lead.
But the Mustangs responded on its next two drives as Martin found Grabill – 14 yards and 59 yards – to go into halftime down 21-14.
It would have been easy for Blue Valley North to cave after three and outs one its first three drives and a muffed punt that was recovered by Blue Valley.
"One game isn't going to define these seniors," Sims said. "It's a group that's won a state championship, they've been runners-up. They've battled year in and year out. A lot of teams will give up 21-0, but these guys don't have any quit in them. My hat's off to Blue Valley, my hat's off to my boys. Any time you lose by one point in the playoffs, it always stings."