Photo Credit: Nick Smith/PrepsKC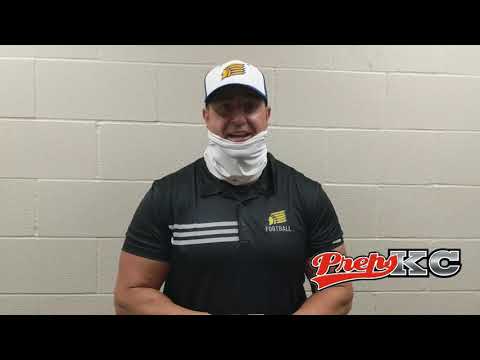 Anthony Simone Jr. was unaware of what was coming his way.
With about 40 seconds left on the clock, the first-year St. Pius X head coach was finally about to feel that glorious feeling. The feeling of sweet victory.
But first, he was in for a quick surprise.
An ice-cold water shower.
"We've all been talking about (how I've been a) youth football coach, right," said Simone, who spent the past 13 years as a coach for the Necco Raiders youth team. "So, to be able to win a high school football game is a big deal and those guys definitely surprised me on that one."
In Simone's debut calling the shots for his alma mater, St. Pius X defeated the Pembroke Hill Raiders 47-24 Friday night at Warrior Stadium.
"I can't even describe the feeling," said Simone, a 2002 St. Pius X grad. "To come up and play the way these guys did, I can't describe it. It's a dream come true.
"There's a ton of pride," he added. "With me being here and knowing the traditions and everything we do; we've been able to keep what coach (Rick) Byers built here."
"It was pretty sweet," said senior receiver David Deters, who caught two touchdown passes. "You always see it on TV and when you have the chance to do it, it's just something special."
The Warriors' season-opening victory, fueled by a 26-0 showing in the third quarter, revamped a rivalry with Pembroke Hill. It was the first meeting between the two teams since St. Pius X beat the Raiders in a 2017 regular-season meeting.
"They're always a tough opponent and (Sam Knopik) is a legendary coach," Simone said. "It was a great chess match and it was great to have them back."
"I've been up here a few times," said Knopik, the 17-year Pembroke Hill coach. "Pius is always top shelf."
After a scoreless first quarter, St. Pius X and Pembroke Hill traded scores in the first two minutes of the second frame. Then the Warriors made it back-to-back possessions with a touchdown when Deters grabbed a 49-yard touchdown pass from a scrambling Jack Mosh for a 14-7 lead.
Evan Wolfe hit a 30-yard field goal for the Raiders to cut the lead to 14-10 with 3:02 left in the half, but Mosh and Deters linked up again for a 10-yard connection with 41 seconds before St. Pius X owned a 21-10 halftime lead.
The Warriors owned the third quarter before Pembroke Hill added two touchdowns in the final frame to close the scoring.
With the win, the Warriors extended their winning streak to six games against the Raiders, who went 7-3 last season. St. Pius X, 3-7 last year, returns to action at St. Michael the Archangel (0-1) next week. Pembroke Hill is at Kansas City East (0-1).