Photo Credit: Todd Nugent/Special to PrepsKC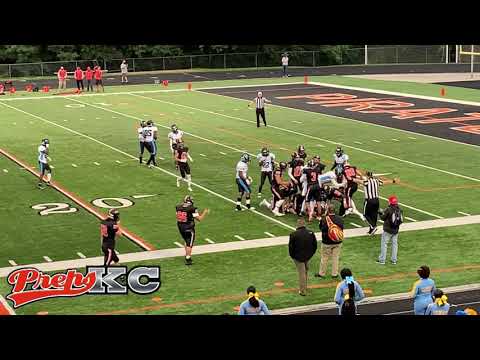 Complete Box Score and play by play
Platte County's dominant first half secured the Pirates their third win in as many games as they beat Grandview 35-12 on Friday night in Platte City.
"I thought we played well in the first half and got after it like we should," Platte County head coach Bill Utz said. "I told our guys, great teams close that out. We had an opportunity to do that and we didn't do that. Then you end up with what we had, which was some ugly football. When you get a big lead your urgency kind of goes away a little bit. Some of that is natural, but we have to be better at closing it out."
Platte County started quickly with points on their first drive of the night. At 9:44 of the first, Cayden Davis broke free for 18 yards and a touchdown to put the Pirates ahead 7-0.
The Platte County defense made their presence known late in the first quarter. With just under four minutes to play, the Pirates recovered a fumble at the Grandview 7-yard line. One the very next play, Davis scored his second TD of the night to make it 14-0.
Platte County's defense forced yet another fumble on the next possession and Trevor Scott ran it to the Bulldogs' one. Christopher Ruhnke's pass to Cole Rhoden made it a 21-point lead after one.
Another rushing score from the Pirates, this one by junior Ben McDaniel, made it 28-0 with 9:08 left in the half.
A 44-yard connection from Ruhnke to Dayton Mitchell moved the Platte County offense deep into Grandview territory and set up Davis' third rushing touchdown of the first half.
A busted coverage in the final minute of the second quarter allowed Bulldog quarterback Chris Connor to find Reggie King on a 56-yard bomb to make it 35-6 at halftime.
King found the end zone once more for the final score (35-12) of the game on a punt return for 60 yards with 3:41 left to play.
"I'm not disappointed, there's just things we need to do to get better," Utz said. "I love where we are at. The top half of our schedule is tough like always. I thought we've responded really well with all the other stuff that's going on and I'm happy about that."
Platte County (3-0) is back home next Friday to face North Kansas City, while Grandview (1-2) will be on the road at Winnetonka.