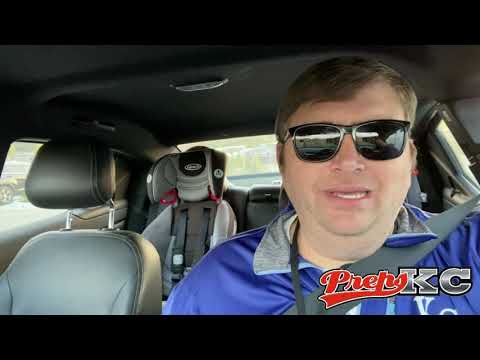 Each Friday the metro area lights up with football games. In a normal world, fans would find their game of choice and attend. But that limits a person. What if a fan tried to get to as many games as possible in a night?
On Oct. 9, I set out to see how many games I could get to in a given evening. There were few rules set other than I wanted to try to get games in both Missouri and Kansas as well as at each game I attended, I needed to see at least a score or the end of the quarter before moving to the next contest.
Here's how it transpired:
5:15- Leave Raymore
After a pit stop at QuikTrip to fuel up, I headed off to a 6 p.m. start between Northeast and East. As someone who doesn't regularly cover IL games, I headed to Southeast, because for some reason I thought they all still played there. Imagine my surprise when at 5:31 I showed up at Southeast to an empty stadium.
Following a phone call, I was off to Northeast.
6:02- Arrive at Northeast High School
After finding a quick parking spot, signing in for contact tracing and getting my temperature taken, I was at my first game of the night between East and Northeast.
This early kickoff gave me a chance to see how things would work in terms of getting in and out of stadiums and roughly how long I might be at a school before a score. Obviously if I stayed at one school for an entire quarter, my total number of schools was going to be low. So from here on out, I'm rooting for points and a lot of them scored quickly.
This game ended up being a fast stop. After stuffing Northeast, East scored on its first drive.
In addition to getting my game count for the night to one, I also was able to mark another stadium off my list.
6:06- Headed to St. Pius X
The next stop on the tour was St. Pius X for its matchup with St. Joseph Benton. With it being just a short trip north, this one left me with plenty of time before things started getting really busy.
It was also, I think, my first time being at a game at Pius since probably 2008. It's also fair to say this team is probably as good of a team as they've had since those teams that competed for Class 2 and Class 3 crowns.
Once the game kicked off it was time to get real. At the same time, every other game I wanted to hit was kicking off.
Thankfully, the Warriors took the opening drive down and scored.
7:07 - Time to get busy
The Warriors score and off the 2013 Dodge Avenger goes to Platte County at Winnetonka.
This would be my shortest trip of the night at least timewise. Thankfully, a KCPD officer was able to let me out of a blocked street leaving the stadium otherwise I would have lost several minutes.
A quick shot down I-29 and over to 210 and I was at my favorite football stadium in the metro, North Kansas City. I will say the one thing that gave me any trepidation about this whole football tour was going to be finding parking at some of these games. In all the years of covering games at North Kansas City, the only time I was able to get a good parking spot was to get there an hour early. That wasn't the case this time.
That leads to the one questionable parking job I did the whole night. A circle drive had an empty spot behind the Winnetonka band trailer. Granted I'd have to either back out from there or wait until the end of the game if someone came and blocked me in as well.
Thankfully the football gods smiled on me because I walked from the car, to an unlocked gate that led right to the north end zone.
As I walked up, the Pirates had a strip sack and had the ball inside the Winnetonka 20. At this point it looked like I might be at this game less than a minute. After watching first down, I realized I forgot my mask in the car. Not cool. A 20-second run back to the car made me miss another down and by the time I was settled back in my spot, I witnessed a Platte County field goal.
7:18- Now Where?
The field goal is good and I'm back in the car. I made a quick call to the fearless lead of PrepsKC, Dion Clisso to find out the score and quarter of potential next stops.
At this point I had four options of where to go next, Pembroke Hill, Ruskin, Rockhurst or Shawnee Mission South.
I for sure wanted to make it to a game in Kansas during part of this tour, so I headed south towards the Grandview Triangle.
I knew it was homecoming between Shawnee Mission South and Shawnee Mission Northwest, so a longer halftime made that one easy to get to hopefully right as the third quarter started. I also had the Rockhurst game on the radio and knew it was going slow because of a slew of first quarter points.
That meant it was time to go to Ruskin.
7:50- Finally at Ruskin
It was almost 30 minutes in the car getting from one game to the other. I blame many things, mostly Covid canceling the game that was to be at Shawnee Mission North's stadium. My original map was much more concise.
Regardless, I was at Ruskin and the football gods were about to smile again.
Remember part of my self-imposed rules were that I needed to either see a quarter or a touchdown.
With 7:40 left in the first half and Grandview facing a 4th and 21, it looked like I was going to be at Ruskin for a while. Reginald King, who has committed to North Dakota State, had other ideas. He took the snap for the punt and faked it, running for a first down… needing 21 yards.
That kept the drive alive and minutes later King hauled in a pass and got to the end zone. The football tour thanks you for your service, Mr. King.
7:57- Lets go to Kansas!
Back on 470 to 435 West and 15 minutes later, I was headed to Shawnee Mission South. The best-case scenario here is the second half has just started and we catch a quick score from Ty Black and Shawnee Mission Northwest and move on to Rockhurst.
8:13- Halftime
I arrived at Shawnee Mission South, which was my first trip to the stadium, and as I walked down the hill I met the Raiders heading to halftime. That's a suboptimal situation.
This is probably a good time to elaborate on the fact that while the game was good, this was the weirdest situation of the year in terms of Covid really screwing things up. Both South and Northwest were supposed to host homecoming games on Friday. However, both teams' opponents canceled because of Covid related issues. So what do you do when neither team has a homecoming game? Joint homecoming. South crowned their court before the game while Northwest did it at halftime.
So after a 22-minute halftime it was time to get back to action and see how long we'd be in Kansas. On the first drive of the second half, the Cougars led by Black, rolled down the field in about six minutes of real time and scored a touchdown.
8:42- Side Streets
Time to make the short trip over to Rockhurst. My plans with this game changed about six times throughout the night. At one point I decided I would just get to Rockhurst and stay until the game was over if St. James kept it close. When I got to Ruskin, it was a two-point game.
By the time I made it to Rockhurst though it was around a 20-point lead for the Hawklets.
8:56- Another quick score
It doesn't take long to get in and out of Rockhurst, especially when it's the final seconds of the third quarter when you arrive. And technically with my rule that I just needed to see the end of a quarter,I could have watched two plays at the end of the third quarter and left, but I'm nothing if not a stickler for the spirit of the rules.
Luckily on the first possession I was there for Rockhurst kept its drive alive and scored. I was headed for the exit at the same time legendary Rockhurst coach Tony Severino -- we'd both seen enough.
I was at six games, but I wanted more. A bonus seventh game. All night I'd been watching the PrepsKC scoreboard looking for another place to sneak into, ideally close to home. The fourth quarter had just started, and Truman was giving Belton a great game.
Why not, let's go to Belton.
9:03- What's the best way to get to Belton?
Google maps said to take Stateline to 150 to Holmes, so that's what we did. Things were looking very promising to make it to the end of this game.
A couple stoplights on State Line Road, however, were my demise.
9:25- Arrive at Belton
Parking was at a premium, so I ended up much further from the stadium than I wanted to be. I heard the final play over the public address system, but by the time I got to where I could visibly see the field… the game was over. My dreams of seven games fell about 50 yards short.
All in all it was fun. Ninety miles traveled, six games, five touchdowns, one field goal and only one punt. Not too bad of a night.
There'll be a next year for this event, but instead of hitting games we'll add some new twists. Perhaps how many miles traveled to watch games or how many counties can we watch games in. Also I think I need to hire a driver next time.
Thanks for joining along.