Photo Credit: Toriano Porter/PrepsKC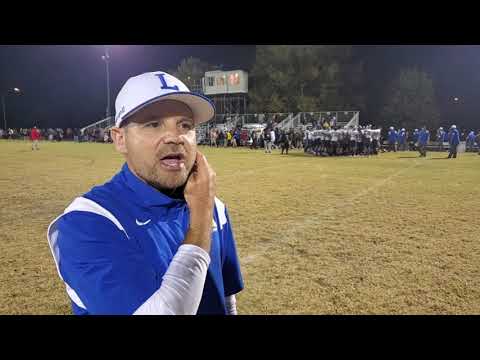 Lincoln College Prep was effective, efficient and pretty much controlled Pembroke Hill from start to finish Friday night at Pembroke.
The Blue Tigers' business-like approach to a budding rivalry paid off in the 45-7 drubbing. Lincoln jumped out to a 14-0 lead in the first and led 24-7 at halftime. A 21-0 second half left little doubt who the better team was in the latest iteration of this public-private school matchup.
Lincoln has won three games in a row over Pembroke. The Blue Tigers are now 6-0 on the season after claiming a win in the Dipasquale-Moore Law Metro Matchup of the Week.
"Six-and-oh," the team yelled in unison after the impressive win. The Blue Tigers were nearly flawless in all phases of the game.
Deaven Roberson's first punt return for a score on the season accounted for the game's first points.
"I had to show off my speed," Roberson said, adding he has been timed with a 4.4 40-yard dash.
"We had special teams going early," Lincoln Prep head coach William Lowe said. "We've been working hard on special teams. This week, we worked specifically on punt return."
Lincoln went up 14-0 after touchdown run by Jayden Sudduth, who followed with another tally to push the lead to 21-7 with 9 minutes left in the second quarter. A field goal extended the lead to 24-7 with 4 minutes remaining until halftime. The pageantry of Senior Night at Pembroke Hill was spoiled early. The Raiders trailed visiting Lincoln by 17 points late in the second quarter when the pomp completely stalled.
Quinton Conley, a four-year starter and senior playmaker on both sides of the ball, screamed out in pain as he was escorted from the field by the training staff. Conley appeared to favor his right hand or forearm, which was placed in a soft cast on the sideline. He left the field and did not participate in halftime festivities to recognize the Raiders senior class.
Conley has been an integral part of the Raiders' success over the last four years. To see him injured against Lincoln Prep was heartbreaking.
"We don't really know what's going on," Raiders head coach Sam Knopik said. "His mom and dad took him to the hospital. We'll know more."
On the field, the Raiders were stuck in neutral most of the night. The Blue Tigers ended the game by forcing a mercy-rule running clock.
"We still have a lot of football to play," Knopik said. "Quinton's a tough kid, but it's part of the game. We talked to the team at the end about the scoreboard is a part of the game, playing is part of the game and brotherhood is part of the game. Now is the time to rally in that way."